Christine (---)
F, b. 9 January 1947
     Christine
(---)
was born on 9 January 1947.
Johnn Theodores Polhenius
M
Sarah (---)
F, d. after 1783
     Sarah
(---)
married
Benjamin

Johnson
. She died after 1783; as she is mentioned in Benjamin's will.
(Comment:
She is was NOT the Sarah Swallow, daughter of Johannes Swallow of East Twp, Hunterdon Co, NJ, as mistakenly stated.)
Mabel Idella Poorbaugh1,2,3,4,5
F, b. 29 April 1887, d. 19 May 1977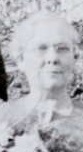 Mabel Wright
     Mabel Idella
Poorbaugh
was born on 29 April 1887 at Harvey Co, KS.. She married
Walker Quincy "Doc"

Wright
, son of
Jacob E.

Wright
and
Hannah Marie

Baker
, on 22 January 1939 at Newark, Alameda Co, CA..
6,7
She lived in 1956 at Mowry School Road, Fremont, Alameda Co, CA.. She died on 19 May 1977 at Alameda Co, CA., at age 90.